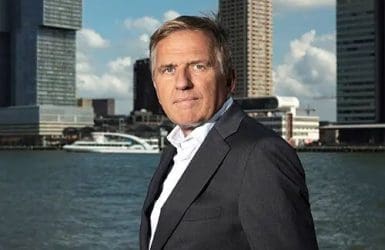 Sjoerd Laarberg new CEO Alpina Group
Effective September 1, 2023, Sjoerd Laarberg has been appointed as Alpina Group's new CEO.
Sjoerd succeeds Michael de Nijs, who has held this position since Alpina Group was created in 2021 from the merger of the Voogd & Voogd Group and the Heilbron Group. De Nijs will continue to support Alpina Group as a member of the Supervisory Board.
Bastiaan de Voogd, chairman of Alpina Group's Supervisory Board: "We thank Michael for guiding Alpina Group through the merger process. He has created a strong foundation on which we can build further. We are delighted that Sjoerd Laarberg will be our new CEO. His vast knowledge of the insurance industry and 25 years of experience in transforming, integrating and positioning companies, is an ideal combination in the next phase of Alpina Group's development."
Michael de Nijs adds: "Over the past few years, I have worked with great energy to lay a strong foundation for our transformation to 1 organization. It has been an exciting and inspiring journey and the company is now ready for a new phase of leadership. I look forward to supporting Sjoerd and Alpina Group in my new role."
Sjoerd Laarberg: "With its leading service provision, proprietary technology platform and excellent reputation, Alpina Group has a unique position in the insurance industry. I see many opportunities to further shape and grow the company. I look forward to working with management and employees to further develop the company strategy and realize Alpina Group's enormous potential."
Laarberg has more than two decades of experience in the insurance industry in the Dutch/Benelux market. He has held various management and board positions, most recently as CEO of Allianz in the Netherlands. He held this position for 11 years after joining Allianz in 2006. Before that, he held various management positions inside and outside the insurance sector, including at AEGON.
Together with Annemarie Rosebeek (CCO) and Arto Willemsen (CFO), Sjoerd will form the Executive Board of Alpina Group as of September 1, 2023.