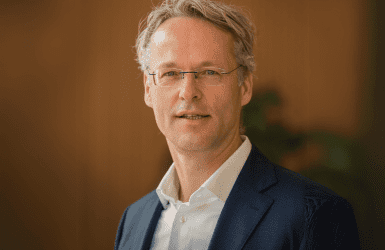 Derk-Jan Stol new CFO of Alpina Group
Derk-Jan Stol will be Alpina Group's new CFO from November 1, 2023. He joins the board that further consists of Sjoerd Laarberg (CEO) and Annemarie Rosebeek (CCO). Arto Willemsen will step down as CFO of Alpina Group as of November 1.
Sjoerd Laarberg: "On behalf of management and board, we would like to thank Arto very much for his commitment and expertise. Alpina Group is in full development and has grown tremendously in a short period of time. Arto has made an important contribution to this. We are delighted that Derk-Jan wants to take up the challenge with us to take Alpina Group even further towards the top of the financial services industry. We warmly welcome him as CFO at Alpina Group!"
Arto Willemsen: "Looking back on the past 4 years, I have worked with great enthusiasm and energy for Sucsez, Heilbron and then Alpina Group. I was able and allowed to make many acquisitions and contributed to the creation and development of Alpina Group. In particular, in shaping and giving substance to the financial department of Alpina Group, which I had the pleasure and pleasure of leading."
Derk-Jan Stol spent the last 7 years at NN Group as Head of Group Finance & Reporting, where he joined as Head of Finance Strategy in 2014. Before that, he and several partners ran their own consulting and interim management company, focused on developing strategy and concepts for insurance and healthcare. Stol has many years of domestic and foreign experience as a manager and consultant in financial services and IT.
Stol: "I am looking forward to the next step in my career. As finance director at NN, I already knew Alpina Group a bit longer because Alpina Group is one of NN's partners. The ambition and potential and the associated challenges of the organization appeal to me. With my broad background and experience, I would like to further define and shape the strategic-financial direction of Alpina Group. With an eye for stability and sustainability and without losing sight of entrepreneurship. I look forward to getting to know the organization."
With the arrival of Derk-Jan Stol, the Executive Board of Alpina Group is complete. Earlier this year, Annemarie Rosebeek joined as CCO and Sjoerd Laarberg as CEO.